SAN Storage Solutions
Engineered for Performance
Just 1U of rack space will support a pair of fully redundant models with heartbeat monitoring and automatic failover. Our easy-to-use interface makes installation and daily administration extremely simple. Real time monitoring provides hardware status, performance metrics for cache, processors, LUNs, IOPS and more. Whether you are looking for minimal rackspace allotment or the smallest HA footprint, Cybernetics' high performance all-flash 4520 is the solution you can trust – all at 1U.
Encryption At Rest
Easy to manage Encryption At Rest - Without Performance Loss.
Snapshots
Snapshots provide quick access to previous versions of data.
Replication
Highly efficient replication requires less bandwidth.
Small Footprint
High Availability Pair in only 1U of rack space.
Scale-Out Capacity
Easily expand SSD and/or SAS storage using expansion cabinet.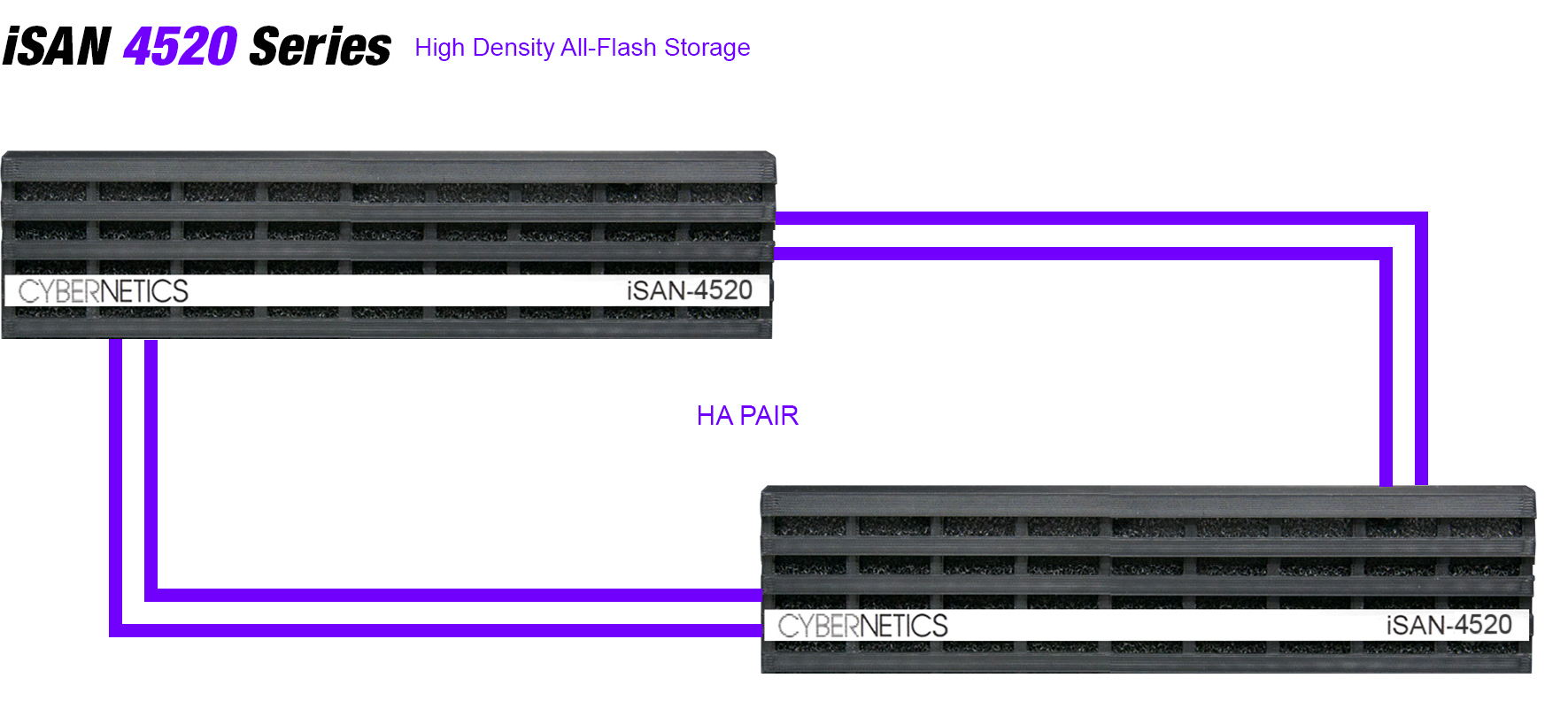 Disk Drive Bays
20
Disk Drive Type
SSD
Transfer Rate
Up to 2 GB/s
Scalable
1 Controller Unit + 2 Expansion Units
RAID Levels
0, 1, 5, 6, 10
Controllers
1
Network Interface
1U 20 bay half rack models: Two (2) 1 GbE Data/Admin Ports, Two (2) 12 Gb/s SAS Expansion Ports, One (1) USB3 Ports

Optional: 10 GbE, 40 GbE, 8/16/32G FC
PowerBoost Upgradeable Controllers
ISAN 3K/5K/7K SERIES

Ideal Choice For Medium To Enterprise Businesses
Up To 240 TB Per Unit
Up To 4 GB/s
Expand Up To 1.6 PB
Up To 700,000 IOPS
ISAN 6280 2U All-Flash

Ideal Choice For Enterprise Businesses
Up To 320 TB Per Unit
Up To 8 GB/s
Expand Up To 640 TB
Up To 1,000,000 IOPS
ISAN 6140 1U All-Flash

Ideal Choice For Medium To Enterprise Businesses
Up To 160 TB Per Unit
Up To 4 GB/s
Expand Up To 480 TB
Up To 1,000,000 IOPS
Over 40 Years In Business = Satisfied Customers