Revolutionary Storage Solution
for Maximum Performance
with Smallest Footprint
Cybernetics' 6140e All-Flash storage chassis is our most space-conserving offering with a 1U form factor. You will experience reduced storage footprint and overall lower operating cost. Forty all-flash disk drives, unlimited snapshots, options to add expansion and high-availability ensure that you will stay up and running while saving precious rack space. This solution provides up to 160TB of guaranteed raw storage space with sustained speeds up to 4GB/s. Join the revolution!
Encryption At Rest
Easy to manage Encryption At Rest - Without Performance Loss.
Snapshots
Snapshots provide quick access to previous versions of data.
Replication
Highly efficient replication requires less bandwidth.
Small Footprint
Only 1U of Rack Space.
Scale-Out Capacity
Easily expand SSD and/or SAS storage using expansion cabinet.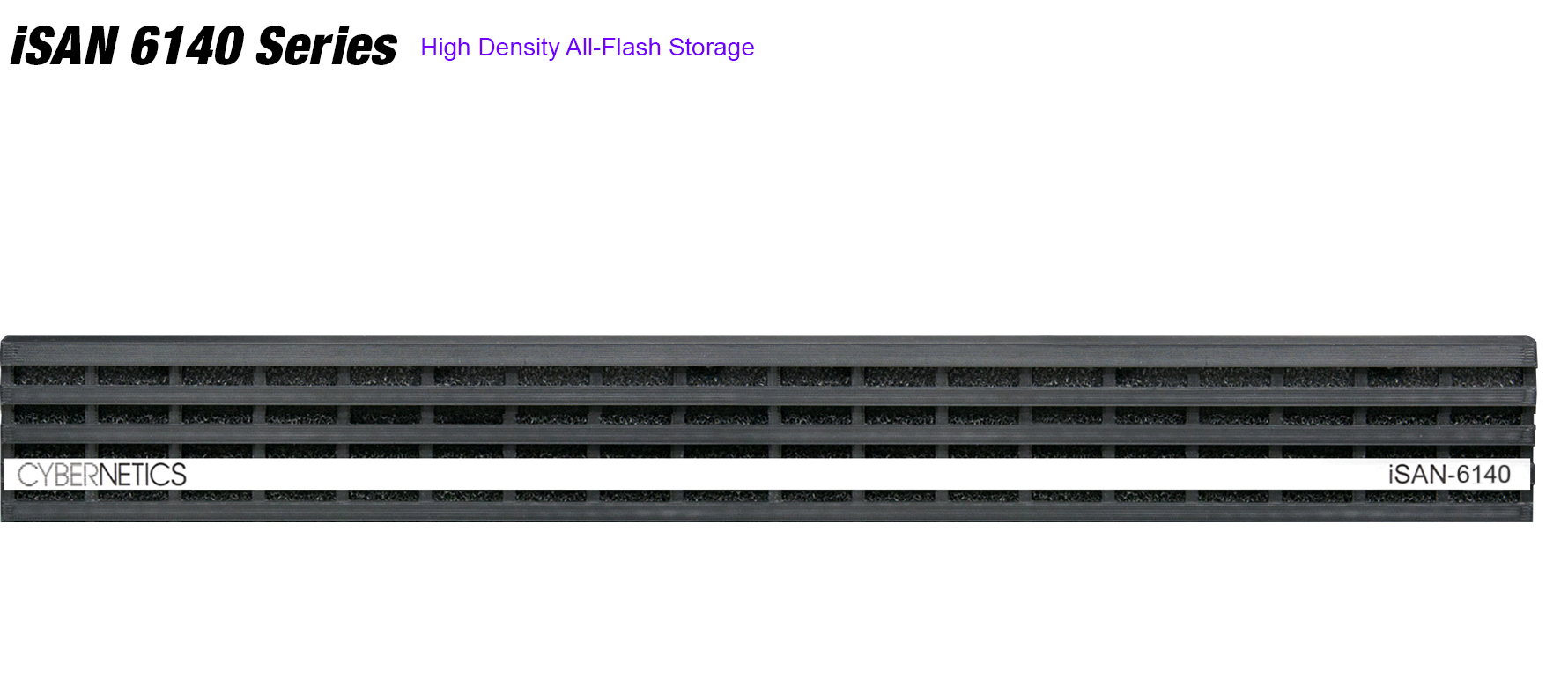 Disk Drive Bays
40
Disk Drive Type
SSD
Transfer Rate
Up to 4 GB/s
Scalable
1 Controller Unit + 2 Expansion Units
Performance
1,000,000 IOPS
RAID Levels
0, 1, 5, 6, 10
Controllers
1
Network Interface
1U 40 bay models: Two (2) 1 GbE Data/Admin Ports, Two (2) 12 Gb/s SAS Expansion Ports, Two (2) USB3 Ports

Optional: 10 GbE, 40 GbE, 8/16/32G FC
PowerBoost Upgradeable Controllers
ISAN 3K/5K/7K SERIES

Ideal Choice For Medium To Enterprise Businesses
Up To 240 TB Per Unit
Up To 4 GB/s
Expand Up To 1.6 PB
Up To 700,000 IOPS
ISAN 6280 2U All-Flash

Ideal Choice For Enterprise Businesses
Up To 320 TB Per Unit
Up To 8 GB/s
Expand Up To 640 TB
Up To 1,000,000 IOPS
ISAN 4520 1U All-Flash HA Pair

Ideal Choice For Medium Businesses
Up to 40 TB Per Unit
Up To 2 GB/s
Expand Up To 120 TB
Up To 300,000 IOPS
Over 40 Years In Business = Satisfied Customers