Enormous Capacity & Highest Speed
in the Most Compact Solution.
Cybernetics' 6280e All-Flash storage chassis is unparalleled in size to performance output ratio. With a 2U form factor, you will experience reduced storage footprint, heat and electrical cost. Dual controllers provide redundancy and fail-over while all-flash reliability ensures extreme up-time. This solution provides up to 320TB of guaranteed raw storage space with sustained speeds up to 8Gb or GB/s – accelerating all facets of your data center operations.
Encryption At Rest
Easy to manage Encryption At Rest - Without Performance Loss.
Snapshots
Snapshots provide quick access to previous versions of data.
Replication
Highly efficient replication requires less bandwidth.
Small Footprint
Only 2U of Rack Space.
Scale-Out Capacity
Easily expand SSD and/or SAS storage using expansion cabinet.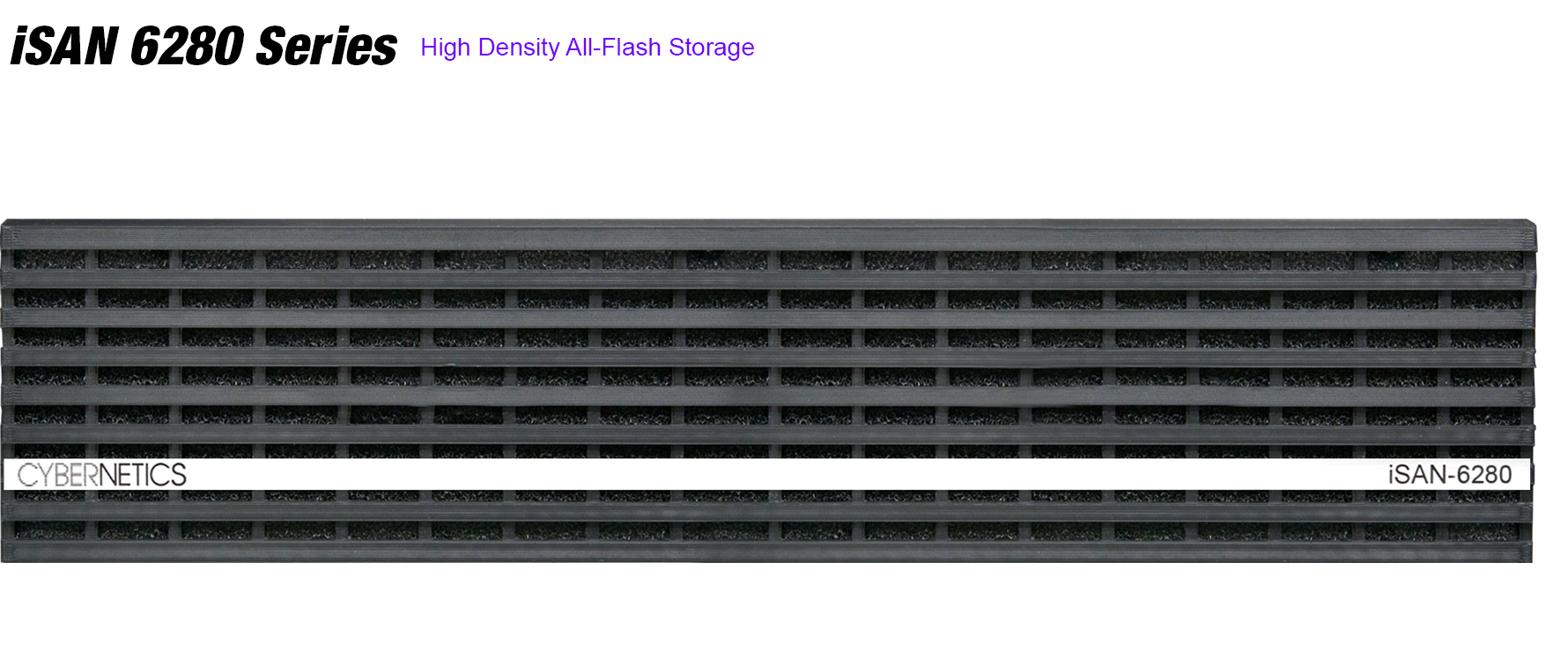 Disk Drive Bays
80
Disk Drive Type
SSD
Transfer Rate
Up to 8 GB/s
Scalable
One (2) Controller Unit + 2 Expansion Units
Performance
1,000,000 IOPS
RAID Levels
0, 1, 5, 6, 10
Controllers
2
Network Interface
2U 80 bay models: Four (4) 1 GbE Data/Admin Ports, Two (2) 12 Gb/s SAS Expansion Ports, Two (2) USB3 Ports

Optional: 10 GbE, 40 GbE, 8/16/32G FC
PowerBoost Upgradeable Controllers
ISAN 3K/5K/7K SERIES

Ideal Choice For Medium To Enterprise Businesses
Up To 240 TB Per Unit
Up To 4 GB/s
Expand Up To 1.6 PB
Up To 700,000 IOPS
ISAN 6140 1U All-Flash

Ideal Choice For Medium To Enterprise Businesses
Up To 160 TB Per Unit
Up To 4 GB/s
Expand Up To 480 TB
Up To 1,000,000 IOPS
ISAN 4520 1U All-Flash HA Pair

Ideal Choice For Medium Businesses
Up to 40 TB Per Unit
Up To 2 GB/s
Expand Up To 120 TB
Up To 300,000 IOPS
Over 40 Years In Business = Satisfied Customers