The Powerful Small Business
Backup Solution.
With iSAN v2108L Series D2D2T Virtual Tape Library, backup doesn't have to slow you down. Utilizing the power of RAID and Tape Virtualization, you can write data from all your heterogeneous workstations and servers to multiple disk based virtual tape libraries on the VTL at once - all with your existing tape backup software. With 8 disk drive bays of virtual tape capacity, and speeds of 750 MB/s, this D2D2T Virtual Tape Library makes short work of the biggest network backup jobs. Data remains in disk cache for near-instantaneous restore. Offload to portable tape for long term archival storage is a serverless operation that is performed in the background, so it won't slow your network performance. A disk based Virtual Tape Library strategy combines the performance of disk with the security and cost efficiency of tape for the ultimate in data protection.
Multi-Platform Support
IBM System i,p, Legacy AS/400, Windows, Linux, Unix, HP-UX, Netware, MAC OSX
Encryption
Encrypt data on the VTL and on media.
Physical Tape Offload
Serverless offload to physical tape.
Replication
Highly efficient replication requires less bandwidth.
Scalable
Scalable, easily expand SSD and/or SAS storage using expansion cabinet.
Deduplication
No dedupe hydration penalty means faster restores.
Optional deduplication reduces backup space typically by 50:1 to 200:1.
iSAN V2108L Specifications

Disk Drive Bays
8
Disk Drive Type
SATA
Transfer Rate
Up to 750 MB/s
Scalable
1 Controller Unit + 2 Expansion Units
Multi-Platform Support
IBM System i,p, Legacy AS/400, Windows, Linux, Unix, HP-UX, Netware, MAC OSX
RAID Levels
0, 5, 6
System Type
2U Rackmount
Network Interface
Standard: Two 1 GbE ports, 3 USB 3.0 ports

Optional: 1 GbE, 10 GbE, 8G FC, 6G SAS
iTAPE 2104

Ideal Choice For Small Businesses
Up To 16 TB Per Unit
Up To 2.7 TB/hour
On-Prem / Cloud VTL Backup
Shift Gears With Upgradeable Controller
ISAN 3K/5K/7K SERIES

Ideal Choice For Medium To Enterprise Businesses
Up To 160 TB Per Unit
Up To 14.4 TB/hour
Expand Up To 320 TB
On-Prem / Cloud VTL Backup
ISAN 6124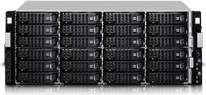 Ideal Choice For Enterprise Businesses
Up To 240 TB Per Unit
Up To 14.4 TB/hour
Expand Up To 3.8 PB
On-Prem / Cloud VTL Backup
ISAN 6140 1U

Ideal Choice For Enterprise Businesses
Up to 240 TB Per Unit
Up To 14.4 TB/hour
Expand Up To 3.8 PB
On-Prem / Cloud VTL Backup
Over 40 Years In Business = Satisfied Customers